Of all the cities to live in Canada, Calgary homes for sale may be some of the most sought-after pieces of real estate, and with good reason.
This cosmopolitan city in Alberta is consistently ranked as one of the top places to settle down. It's steeped in Western culture, garnering it the nickname of Cowtown, thanks in big part to the Calgary Stampede.
Here are some of the many reasons Calgary residents love the place they call home.
It's clean.
Everyone appreciates a city when it's nicely kept and clean. Forbes Magazine has often named Calgary as one of the cleanest cities in the world.
The city takes it seriously and comes down hard on folks who try to littler. Fines of upwards of $500 are enforced for those caught throwing trash on the street.
Calgary has great infrastructure in place to ensure this cleanliness from its sewer system to its recycling program.
It's quite affordable.
The cost of living in Calgary is low compared to cities of the same population. Vancouver is eight percent higher and Toronto is 13 percent higher in cost of living.
The healthcare is great.
Like Canada as a whole, the healthcare is universal, making medical treatment accessible and affordable for everyone.
The city also has state of the art medical facilities for residents and many providers to choose from.
You can rest easy knowing you and your loved ones will be taken care of.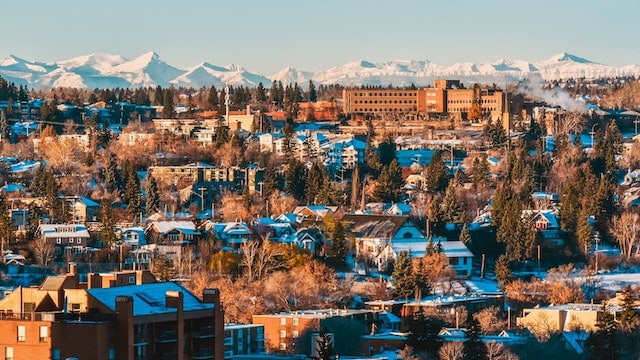 There's a lot to do.
Calgary is a great place for sports enthusiasts. Olympic Park is here, a space originated when the city hosted the Winter Olympics years ago. It's now a year-round recreation and training facility.
Visitors can ski, snowboard, and even try out the ice luge.
The Calgary Stampede is the most notable event in the city. It leans into the western roots of the area hosting a rodeo, derby, parade, and much more. It lasts over a span of 10 days.
Given Calgary's location there are plenty of outdoor activities to partake in. Hike the rugged mountains or bike one of many cross country trails.
There are over 20,000 acres of parks in the city. Though there are urban areas you can always find a quiet space to enjoy nature.
Taxes are low.
Alberta has a low tax level, with Calgary paying only five percent sales tax. 
Compare this to Ontario, which tacks on 15 percent sales tax, and you'll see why Calgary is so attractive.
It's diverse.
There's a large multicultural community here with nearly half of the residents being born outside the country.
You will see their influence in the arts and entertainment scene and the restaurants throughout the city.
Foodies love it.
Speaking of restaurants, Calgary has an incredible culinary scene. Contemporary Canadian food is prevalent, but you will also find influences from Asia, Europe, and the United States.
It'll give you a sunny disposition.
Calgary is one of the country's sunniest cities. It averages more than 2,300 hours of sunshine yearly, ensuring a serotonin boost no matter the season.