Barcelona is well-known for its stunning beaches, amazing architecture, and diverse and exciting cultural heritage as well as fun festivals, outstanding cuisine, and spectacular natural parks and other green spaces. The city also enjoys great weather all year with winter temps in the 60s, so you have to get outside and play.
But one of the best things about Barcelona is its nightlife. From hitting the clubs to touring the restaurants, there is something for everyone in Barcelona at night. So, if you are out and want to enjoy the best night-time spots, leave your shopping purchase and large bags at a luggage storage locker in Barcelona. Then hit the town for an evening of fun!
Nightclubs of Barcelona
Barcelona is known for its electronic or techno music scene. In fact, people from all over the world come to the city just to party at one of the discos or nightclubs. There are many to choose from and you don't have to choose just one. Try hitting a few of them in one night so you can experience it all.
In the Eixample area, there are dozens of spots to pick from like the Gaixample, which is a very casual and open-minded neighborhood popular with the LGBT community. The area includes many discos like The Arena and Moeem right in the middle of Eixample between Carrer Arago and Carrer Urgell.
Another popular place to party is Poblenou. This neighborhood is actually considered to be the "coolest neighborhood in the city." It is a fast-changing and growing area and attracts a variety of party-goers. Poblenou is also a popular spot for festivals and trendy markets, cafés, bars, and nightclubs.
See a Show
If you are not into the wild and crazy nightclub scene but you still want to have fun at night in Barcelona, there are plenty of places to see a show. One of the most popular is the flamenco Shows, which you can see at many different venues in Barcelona. The place to go to see a flamenco dance is a tablao.
At Palacio del Flamenco, you can see several different kinds of shows, enjoy tapas and several other menu items, and even take some lessons. Tablao Cordobes is another popular spot that has been a favorite with tourists as well as locals. There are five shows a night and your ticket includes food and drinks.
Tablao de Carmen is a large venue named after flamenco dancer Carmen Amaya. It is located in the Poble Espanyol, which is a model village dedicated to Spanish cultures. The authentic flamenco experience at this show is the best and you all gather around huge tables with piles of tapas and drinks.
Enjoy a Sunset Cruise
Whether you are a couple looking for a romantic sunset cruise or a group of friends looking for an exciting sail on the water at night, you can find all kinds of cruises along the Barcelona Harbor. Try a champagne sunset cruise with Stoke Travel and get a 2.5-hour trip on the Med with cava, music, and food.
Sea Barcelona is another fantastic sunset cruise that includes two hours of fun on a charter yacht enjoying premium beer and wine, tapas, and music. You may even get to see some dolphins swim by. Barcelona Sunset Sailing by Peixo offers sunset sailing with tapas, drinks, and 2.5 hours of sightseeing on the Med.
If you are a jazz lover, try the Orsom Barcelona Sunset Jazz Tour on a huge catamaran. You will enjoy drinks, food, live jazz music, and the best views in the city for 1.5 hours. Barcelona Naval Tours has a unique option with a 1.5-hour tour on a 78-foot catamaran with live music, dancing, and amazing views.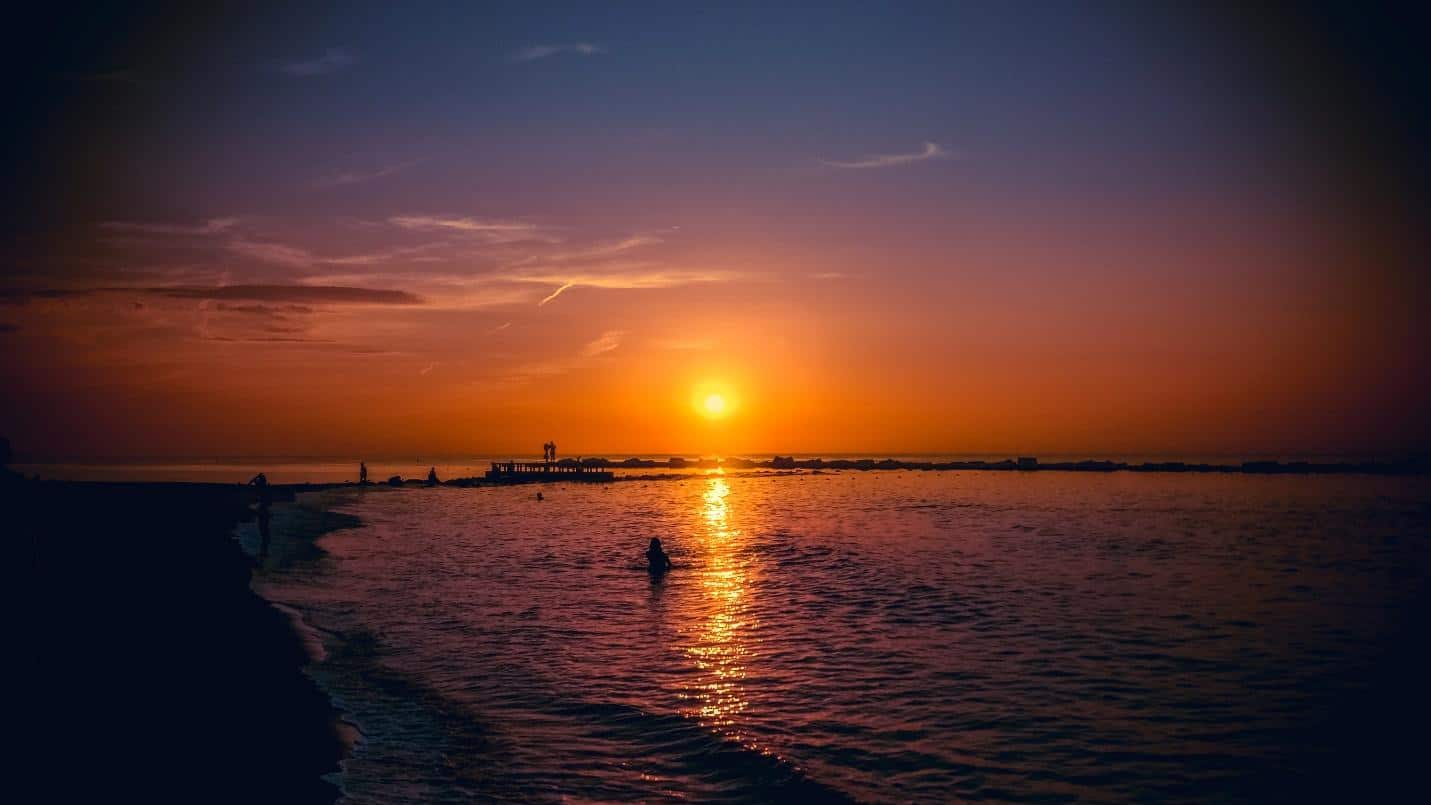 https://unsplash.com/photos/xO_ePu2Nu4o
Moonlight Paddleboarding
For the more adventurous who like to get in the water, try a moonlight paddle boarding tour on LED paddleboards that light up so you can see what is underneath you. The peaceful but exciting trip lasts about three hours and includes a paddle before a meal of traditional Spanish cuisines like Iberian ham, salmon, and cava.
Punalu'u Sailing Club is another place with a nighttime paddleboard tour, this one at midnight. The paddleboards are lit up like the other ones and you will have plenty of time to hang out in the water and see what kind of marine life you can attract. Then you get to enjoy a feast of sandwiches, guacamole, and fruit after.
For another type of moonlight paddling, take a tour of the whole sea starting at Anywhere Watersports before heading to the beach. They provide the board, life jackets, paddles, and a short lesson for those who need it. They even provide a wetsuit and a commentary about the Mediterranean Sea.
Take a Tour
Being such a popular tourist town, Barcelona has a vast array of tours to enjoy from 90-minute drink tours to three-hour food tours. With Locals is a tour company that has both of these. The drinking tour includes three drinks and a few clubs, and the food tour includes 10 different foods and drinks all over the city.
Take an earlier walking tour from four to seven before having a nice dinner if you don't want to stay out late. The Gaudi, Sagrada Familia, and Modernism Tour is a collaboration of three tours together that lasts three hours. You will see a bunch of attractions including La Rambla, the Roman Temple, and the Roman Wall.
If you don't want to do all that walking, try a night Segway tour. This two-hour tour starts on Barceloneta Beach where you will Segway to the Old Port of Barcelona before visiting the Columbus monument, Parc de la Ciutadella, and the Arc of Triumph. Before heading back, you'll see the Agbar Tower light show.
During the day, take some time to see some of the stunning sights and attractions. The Casa Mila is a popular Gaudi (Antoni Gaudi) building with tons of artwork inside. And the Park Guell offers a view of all of his buildings. But don't miss the Picasso Museum and the Museum of Contemporary Art.
https://one-week-in.com/nightlife-in-barcelona/
https://www.barcelona-tickets.com/nightlife-in-barcelona/
https://devourbarcelonafoodtours.com/nightlife-in-barcelona/
https://www.barcelona-life.com/barcelona/nightlife
https://theculturetrip.com/europe/spain/articles/barcelonas-best-bars-for-a-night-out/
https://www.10best.com/destinations/spain/barcelona/nightlife/best-nightlife/