Whether you're looking to retire in Turkey or simply moving there to get a change of pace in your professional life, there's a Turkish city to fulfill your wish.
Turkish cities are as beautiful as they are different. In this article, we'll share with you 3 cities to live in Turkey that you will love.
##Istanbul – For those looking to live and work
If you're looking for a change of pace in your regular work life, then Istanbul is the right city for you. It has everything you'll need from any city, a busy nightlife, plenty of shopping options, outstanding local and international schools, and, of course, attractions such as the Hagia Sophia, Blue Mosque, and others. The city is expensive, especially if you compare it to other popular cities in the country, but it is guaranteed that you'll get access to basic services and a good internet connection, which is important for digital nomads. In any case, as it usually happens in all cities, you'll find a wide variety of prices for rent and services. As you get more and more used to the city, you'll know where to live and where to buy.
The weather in the city is also very nice, especially in the summer, with high temperatures peaking at 24 °C. During winter, it does get cold, and sometimes it snows.
Another benefit of living in Istanbul is the multiculturality. It's common to hear people speaking in English, which is a great advantage if your Turkish is still in its early stages.
##Izmir – For those looking to retire
Izmir is the third-largest city in Turkey, and due to its size and importance, it has all the amenities necessary for any city dweller. There are also plenty of smaller towns outside the city but within the metropolitan area, which is helpful for those who prefer a slower lifestyle without sacrificing access to high-end restaurants, tourist attractions, and large shopping malls. In addition, transportation between Izmir and the nearby towns is excellent.
The location of Izmir is also fantastic. It's on the coast of the Aegean Sea, which brings many additional advantages like sunny beaches, water sports, and delicious seafood. The weather is also nice. It's not too hot in the summer, with temperatures peaking at 33 °C. During the winter, it gets chilly, and it rains, but it doesn't snow.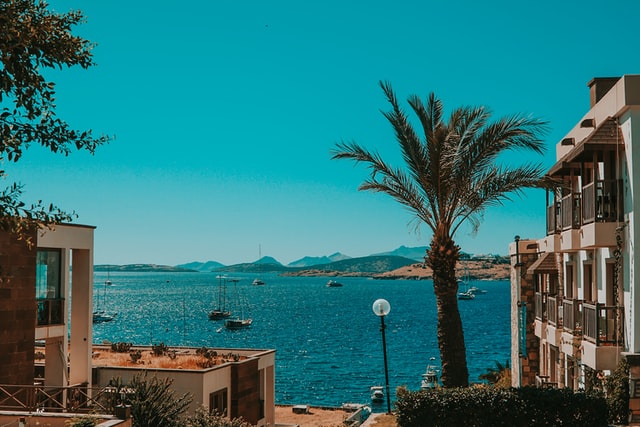 ##Bodrum – For those looking for a high-end life abroad
Bodrum is known as a popular tourist destination, especially among celebrities. It has plenty of high-end hotels, resorts, and spas to please those looking for luxury and relaxation. 
There are also plenty of luxury apartments available, as well as villas for those looking for a bit of privacy in their daily lives. As for amenities, Bodrum offers everything you might need for your everyday life. 
Bodrum is on the Augean coast, and temperatures can surpass 40 °C in the summer, while during winter, it goes as low as 15° C.
If you like Bodrum's lifestyle but prefer a more rustic environment, there are also plenty of options in the nearby towns of Gumusluk, Turkbuku, and Gumbet.
##Turkey eVisa for US citizens
Before moving to a new country, it's always a good idea to explore and see if the location will suit your needs. For that purpose, you can use the [Turkey eVisa for US citizens]. This electronic visa will grant you a stay of up to 90 days in Turkey, where you can explore one or all of these destinations and see which one is best for you. You can process this eVisa online at**iVisa.com** and have it ready in less than an hour. 
Once you've explored your ideal destination and know where you want to move to, you'll have to contact the Turkish embassy nearest to you to process the proper documents and move to Turkey.