If you're planning your next big trip, be sure to add Ecuador to your list. It's absolutely beautiful and there are many natural sites that you can visit. Trek through some of nature's most gorgeous attributes and simply enjoy the scenery and the culture around you.
From stunning beaches to lush forests and enticing wildlife, you simply can't go wrong. Before you plan your trip to Ecuador, be sure to check out these 8 must-see locations. You won't want to miss them!
Galapagos Islands Views and Wildlife
One of the most prominent places that people know of in Ecuador is the Galapagos Islands – and with good reason! We had to put this one on the list and make it a priority option. Don't pass up your chance to visit the islands. You will feel like you are in a world of your own.
The Galapagos has spectacular views thanks to the clear ocean and the serene beaches in the area. Of course, since the islands are primarily left untouched, they have a ton of free-roaming wildlife as well. It's the perfect way to see what nature has to offer in the area and you won't walk away disappointed.
You can see things like sea turtles, sharks, iguanas, penguins, sea lions, and more. A big favorite to most travelers is the vast array of birds and rare birds that you might find here.
Visit Volcanoes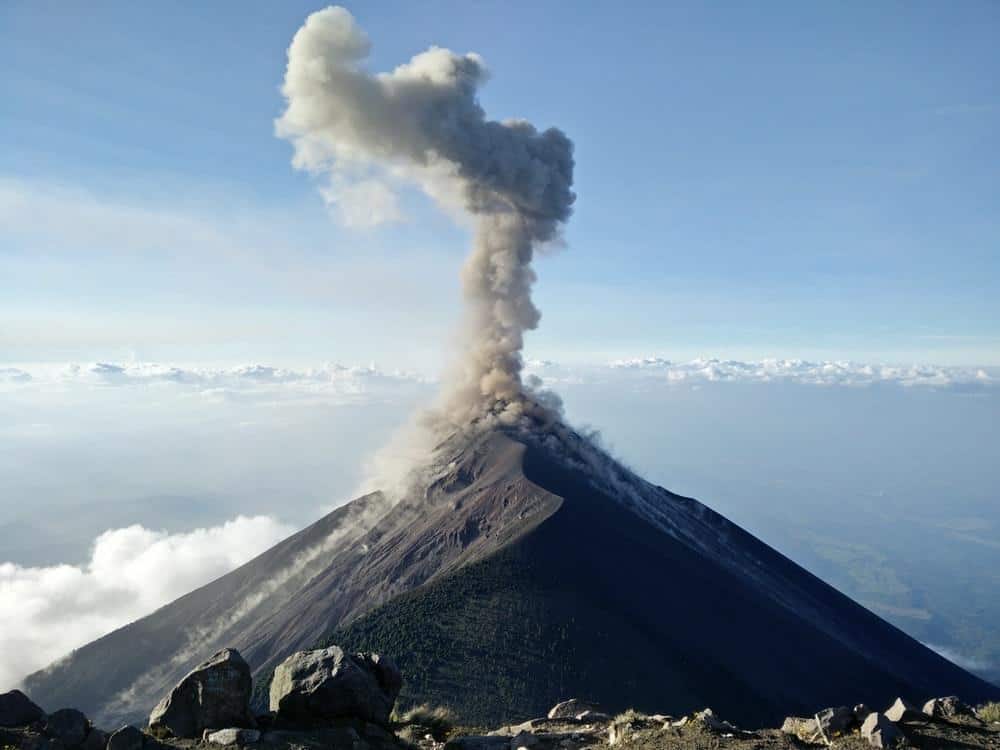 Ecuador has at least 48 volcanoes that span four different chains. These volcanoes are all named but most of them can be visited and climbed. While you're in Ecuador, this is the very piece of nature that you may never get to experience again. Take the time to at least visit a volcano, even if you don't climb it to the summit.
Look for an option that is great for just a day hike, unless you're looking for a climbing adventure and you have the skills for a challenge. Here are some of the most known options.
Volcan Sierra Negra
Volcan Chimborazo
Cotopaxi Volcano
You might just get hooked and decide to spend all your money on hiking gear rather than souvenirs.
The Devil's Nose
There are several different train routes you can take in Ecuador. The best ones take along the Andes to see the sights from mountain heights. However, the train ride that stands out the most is the one that goes along the Devil's Nose. This is one of the most challenging railroad paths ever built and it's fantastic.
The train climbs through switchbacks on narrow pathways that leave you feeling like you're living life on the edge. At the same time, you see some of the best views you can imagine. You also have a unique opportunity to view some of the culture of the area.
It's a cliff of a climb and it's vertical most of the way up. What's more, is it features a rich piece of local history.
Quilotoa Loop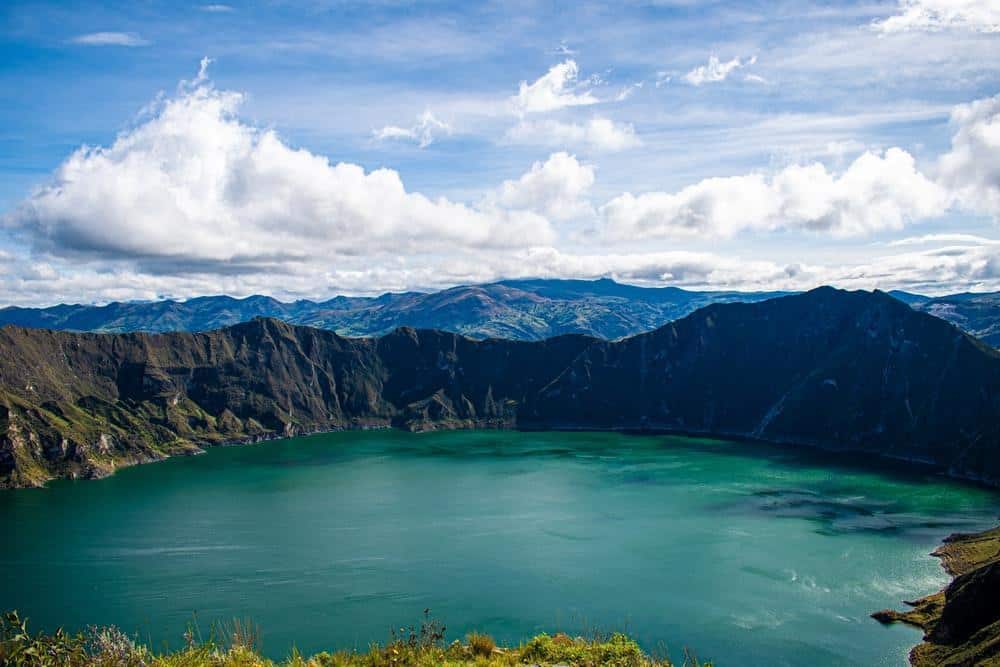 The Quilotoa Loop lets you peek at more than one peak in Ecuador. As you can see, the lake itself is breathtaking. Those clear blue waters are something you're going to want to see. However, this loop is also popular because there are multiple villages in the area.
You can explore and visit several villages, explore the mountain passes, and enjoy the culture and land around you. There are bus tours that take you around and you will find that the locals love visitors. There is so much to experience and see here.
Canoa
Where you choose to go in Ecuador will likely depend on just what you want to experience. Of course, there are the perfect party locations as well as locations loaded with nature and wildlife. Then, you have Canoa. It's colorful and relaxing and it brings together all of the best things from other locations.
You can just relax on the beach and soak up the sun. Of course, there is also plenty of nightlife and party space that you can take in too. If you want to you can spend your day basking in the colorful tents on the beach and then enjoy the restaurants and bars in the evening.
This town is known for its delicious food so don't pass up a chance to try the cuisine.
Basilica del Voto Nacional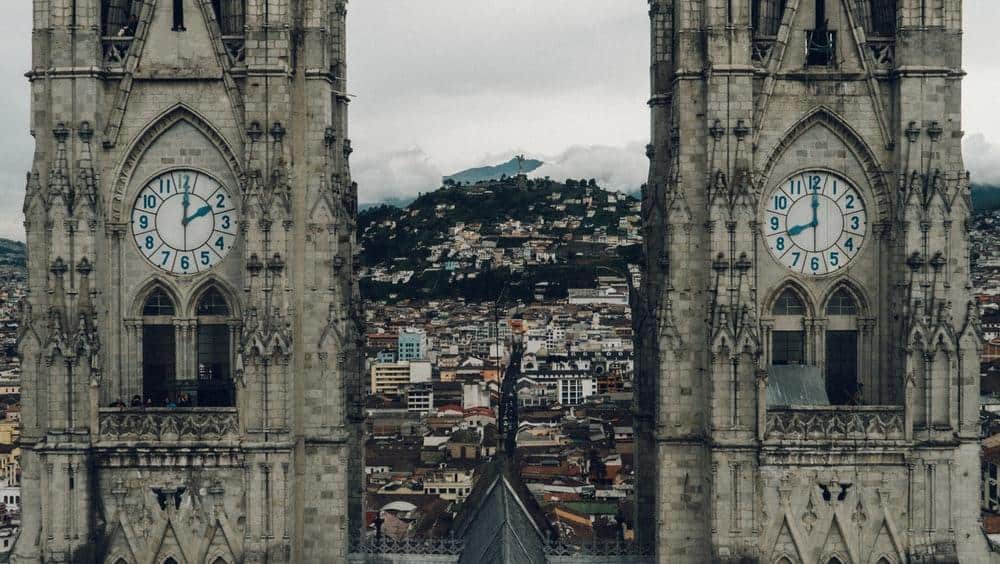 Exploring the nation's rich history should be one of your goals while you are in Ecuador. There is so much to learn about the area. The Basilica del Voto Nacional is a cathedral that is stately and grand. The cathedral was never fully finished and likely never will be. In its half-built state, it bears a strong resemblance to the Notre Dame cathedral.
There are several places in the cathedral that are must-see. You need to take note of the gargoyles, the stained glass, the tile designs, the clock towers, and the wooden plank bridge. You can explore the cathedral as much as you like for just $2 USD. Spend as long as you like and explore every nook and cranny you can.
Banos Hot Springs
The hot springs are a literal hot spot in Ecuador. It certainly falls under the category of a natural attraction in the area. These hot springs are located near the Tungurahua volcano. There are forests all around the springs.
It's the perfect place to simply relax but don't be surprised if there are plenty of other people that are there to relax too. The good news is that you are all there for the same purpose. While it might be crowded, it's quiet and serene.
In addition to the actual hot springs, you can also find a lot of spas that offer various treatments. You may want to pair your visit with a spa visit for the ultimate treat.
Amazon Exploration
Finally, you can't visit Ecuador without spending some time on the Amazon River. There are plenty of waterfalls and water adventures that you can enjoy on the Amazon. Whether you want a boat tour, a canoe trip, or even a jungle excursion, it's an adventure you won't want to miss.