One of the major trends resulting from three consecutive lockdowns in the UK is the growing desire to improve the homes we live in. With more people spending more time at home than ever before, households across the country are plotting increasingly ambitious refurbishments.
But what if you want to breathe new life into your kitchen, without spending a fortune? If you don't want to take out a home refurbishment loan to refund a major refit, which of the more affordable DIY options are worth considering?
Paint the Walls
First up, nothing makes a bigger difference in any room of the home than a fresh coat of paint. It is also by far the easiest and most cost-effective way on the table for cost-conscious home improvements. If you don't fancy painting the kitchen in its entirety, why not consider creating an accent wall in a contrasting colour?
Upgrade the Cabinets 
Even simpler still, you could repaint your kitchen cabinet doors in a different colour, perhaps swapping out the hardware at the same time. Armed with a screwdriver, a supply of sandpaper and some decent paint, it's a straightforward weekend job anyone who knows their way around the toolbox can handle.
Install a Splashback 
Decorative splashbacks pair practicality with pristine presentation, and can be installed just about anywhere in minutes. They can also be customised in limitless ways to suit all kitchen styles, ensuring a flawless fit with the surrounding décor. The sky's the limit, so feel free to use your imagination!
Hang New Window Treatments
From blinds to drapes to premium plantation shutters, there's no shortage of options to choose from. Whichever way you go, hanging new window treatments in the kitchen can and will make a big difference. Just be sure to choose something that's easy to keep clean and hygienic, for obvious reasons.
Put Up Some Shelves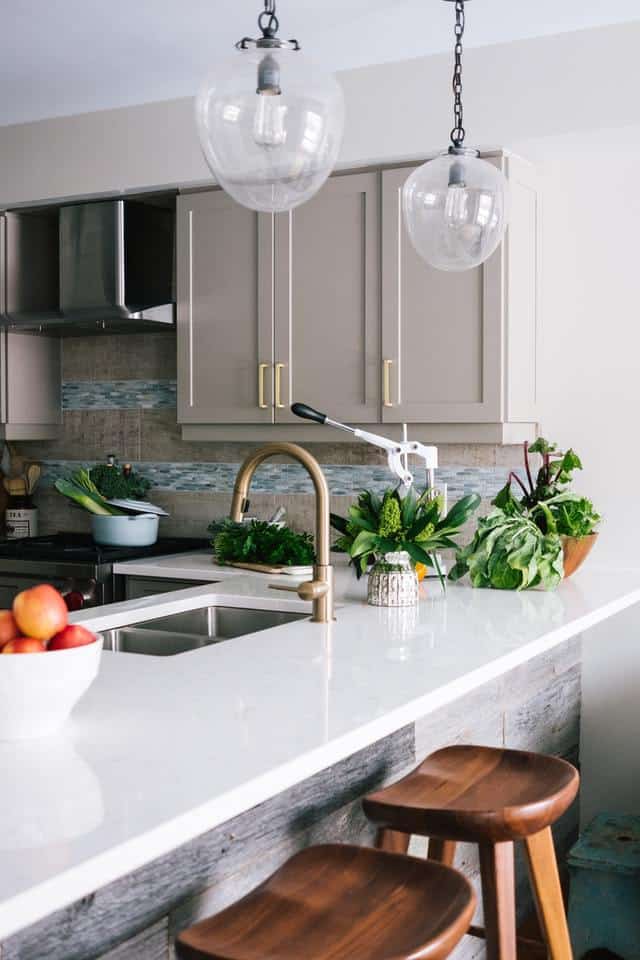 An attractive and functional addition to any kitchen, shelves increase available storage space while giving you the opportunity to display your decorative items and appliances. Add some hooks and loops to the bottom of the shelf for twice the storage space – ideal for minimising clutter in a smaller kitchen. 
Install New Taps 
Swapping out taps and mixers takes mere minutes, yet can make a significant difference to the look and appeal of a kitchen. Choose something that is compatible with the holes already punched in your countertop and you won't even need any special tools or equipment.
Bring in Some Plant Life
It is not technically a renovation in the conventional sense, but plants never fail to bring light and life into any room of the home. Pick durable and resilient specimens, positioning them strategically around the space for a gorgeous visual effect.
Consider New Countertops
Last up, installing kitchen countertops is a slightly more challenging DIY project, due to the sheer weight of the hardware itself. Nevertheless, it is a supremely affordable and incredibly effective option for upgrading a kitchen on a shoestring. You will need a second pair of hands to get the job done, but a few hours out of your weekend is a small price to pay for such a huge (and surprisingly cheap) kitchen makeover.