As you might now, pastels and watercolors are all the rage right now for wedding colors, so that obviously includes your go-to-gals' dresses. That's right, watercolor bridesmaids' dresses are the latest and greatest in bridesmaid fashion, but without a little guidance, this well-intentioned trend can possibly go horribly wrong.
Luckily though, we're here to guide you along a safe, happy path toward a watercolor win! We teamed up with Jessica, designer from JJ's House, to put together an inclusive guide that you gifts you all the details on the latest watercolor dress trend, how to perfect it, and what you should avoid if you're planning to get down with this style. Do this right, and we can guarantee that not only will you love the bridesmaid dresses, but your bridesmaids will love them, too!
Watercolor Details
If you're not entirely sold on an entire watercolor dress, consider slowly paying homage to the trend by adding in a dress that has subtle, tiny, watercolor details. Perhaps you have a watercolor sash, watercolor trim, or beautiful, tiny watercolor stitching or other details that include the trend without totally allowing it to take over your wedding party. Sometimes, less is more, and that can be super beautiful.
Light Watercolor Solids
If you truly love the watercolor trend, hop on full-force and go for something super watercolor! If you do end up trying for a watercolor bridal party and you want them to complement each other to the best of their ability, we suggest keeping it monochromatic or within very similar shades. As a note, ombre watercolor dresses are a super popular, trendy choice for bridesmaids' dresses right now – you might want to check this out!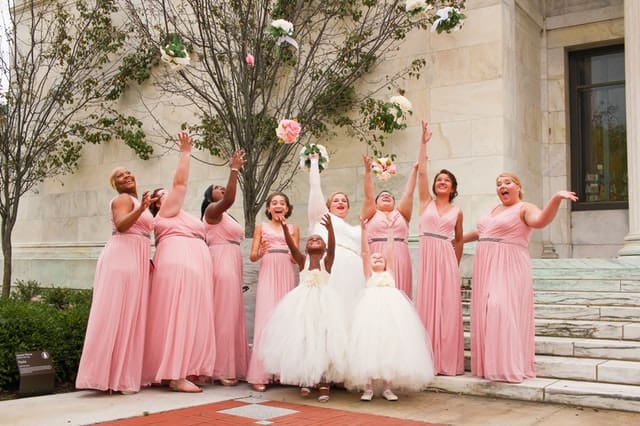 Floral Watercolors
This is one of the most popular ways that brides are styling their bridesmaids within this trend. Whether it's a touch of floral watercolor detail here or there or an entire print of floral watercolor, this look can be positively beautiful. Imagine your girls in either complementary or matching paisleys in watercolor hues. Can you picture anything more fun or beautiful?
Make Sure Your Watercolors Complement
If you choose to allow your bridesmaids to wear complementary dresses rather than get all matchy-matchy, we totally applaud your choice. That being said, this can be extra tricky with watercolor because it's such a precise palette. If you do allow your girls some watercolor freedom, make sure that they're dresses are complementary. Try to stay within the same hues, even if you choose to mix up solids, patterns, or florals. The watercolor dress trend can totally go hand-in-hand with the varying bridesmaids' dress trend, just make sure they're working together in harmony rather than clashing.
Stick with Seasonality
While we love the watercolor trend, we think it's important to recognize that there's a time and a place for these soft, light, pastel palettes. For example, while it's probably possible to pull off a watercolor wedding in the winter, it's going to be a lot hard than pulling off a watercolor wedding in the spring – specifically, if you're looking for watercolor florals and such. Do exactly what makes you happy but do try to acknowledge the seasonality of your look and Buy Good Beauty Products on GoodBeautyProducts.com